Main
->
Rent Niva in Baku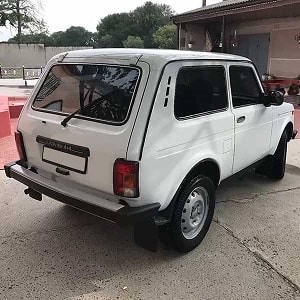 Bank transfer, weekend rates, seasonal discounts! We work in Azerbaijan! We offer you to rent Niva in Baku
Why "Niva"
Quality. Combine excellent off-road performance with the level of comfort of a car.
Reliability. Vehicles will not break and will not let you down at the most crucial moment.
Patency. Are off-road small class with a monocoque body and permanent all-wheel drive.
Cost of Unpretentious, patient, practical. These workhorses are the perfect combination of price and quality.
Read the terms of the lease VAZ NIVA
You can use any payment method (payment terminal, plastic card, bank transfer, etc.)
the car is in excellent condition, equipped with modern equipment and digital acoustics
Insurance is included in the rental price.
we can take you anywhere in Azerbaijan
you can choose the option - without security
rent is provided to individuals and legal entities and corporate clients
VIP card with a discount for regular customers
The best conditions and prices for rental cars in Baku!
Speed, saving time and money - the benefits that RentaCarLux. It does not matter for how long you need a car and what budget you have - together we will select the optimal tariff and vehicle brand so that you can meet any meeting and enjoy the pleasure of using a car. In our fleet you are waiting for new cars, fully ready for long trips, refueled, clean inside and out. By contacting us you will receive any car in full possession for a contractual period, and you can extend it by simply calling us and we will promptly resolve the issue so that nothing will interfere with your trip.
Renting a car in Baku has long been a popular service. In order for you not to be embarrassed in choosing, we offer cars of different price levels, capacity, colors, with automatic or manual gearbox, unpretentious and simple, status and prestigious. Business people left for various reasons without their own means of transportation, we rent a car of middle and business class, which have an effect on business partners. Travelers visiting the capital directly to the train station / airport get a comfortable car and comfortably begin scheduled trips around the city, whether it be visiting friends, relatives, cultural routes or getting to the hotel. Choose!