Main
->
Articles
->
Drive from the airport to Baku
Drive from the airport to Baku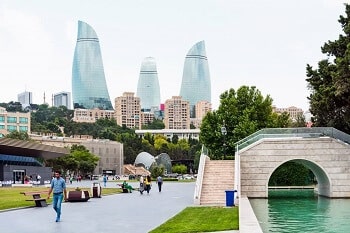 Many who had to fly somewhere on the plane first asked the question: "How do you get from the airport to the city center?" In fact, nothing complicated, but it's better to plan your trip in advance rather than suffer from searching for clues in a search engine at the place of arrival. So, you only that you flew to Baku, went through passport control, took your baggage (if any) and are heading to the exit from the terminal.
I would like to remind you that the airport named after Heydar Aliyev is one of the most beautiful and is among the 8 most beautiful airports in the world. So hurry to leave you will not expect it. When you exit the terminal, you will be expected by local taxi drivers, who will offer you to take you to any point of the city for a small fee. So now for the taxi prices. If you use the services of the waiting taxi drivers, then the trip to the city center will cost you about 20-30 manat.
It is about 12-13 US dollars. You can also use the services of special buses that run every half hour from the airport to the city center. The price for a trip on this bus is about 2 manat. about the floor Torah to pay for this service you have to buy a ticket in the device, which is at the exit of the terminal. I will say right away that the buses are very comfortable and modern. The third way to get to the center of the city is the VIP transfer service. right after you go through passport control. This service is not cheap, but differs in increased comfort. A luxury car with a personal driver will wait for you. But if you plan your trip in advance, I recommend in advance before departure visit the websites of Baku taxi.
There you can book your trip in advance up to a minute. When you exit the terminal, you will have to wait for the driver, who will politely help you with your luggage and may even tell you about some places of interest on the way to the city. The last option to get to the center the city is most suitable for those who love to travel on their own without assistance. This is an online car booking method. It is good that a large number of firms providing this service operate in Baku. Prices for cars are For example, 2015, an off-road vehicle costs 120 AZN per day. This is about $ 80. Good luck to you and have a good time in Baku.